In Loving Memory
Horses come to us from varying backgrounds and are not always in the greatest condition. Sometimes, despite our best efforts, they don't make it. Some of them are older, other times they are injured, but they are all loved and given special, individualized care by our staff and volunteers.
No matter their circumstance, we're honored to be entrusted with their care, and take comfort knowing we do everything we can to offer these horses peace and comfort in their final days. Horses who take their final journey with us are humanely euthanized while surrounded by people who love them and, now that we own our property, buried on site in a special resting place that overlooks the river. Rest peacefully, dear angels.
Brownie came to MVHR severely emaciated, but as sweet as can be. Bloodwork revealed severe metabolic issues and possible cancer, but working closely with Dr. Silvia Stocker, MVHR worked to get him comfortable. Excellent feed improved his weight, but his body did not tolerate medications for the metabolic disorder, and his condition continued to deteriorate. After nearly a year of treatments, with options exhausted, the difficult decision was made to let the sweet boy go. Opinionated and lovable throughout the year that we knew him, Brownie showed us all how to handle difficulty with good humor. God speed, Brownie!!!!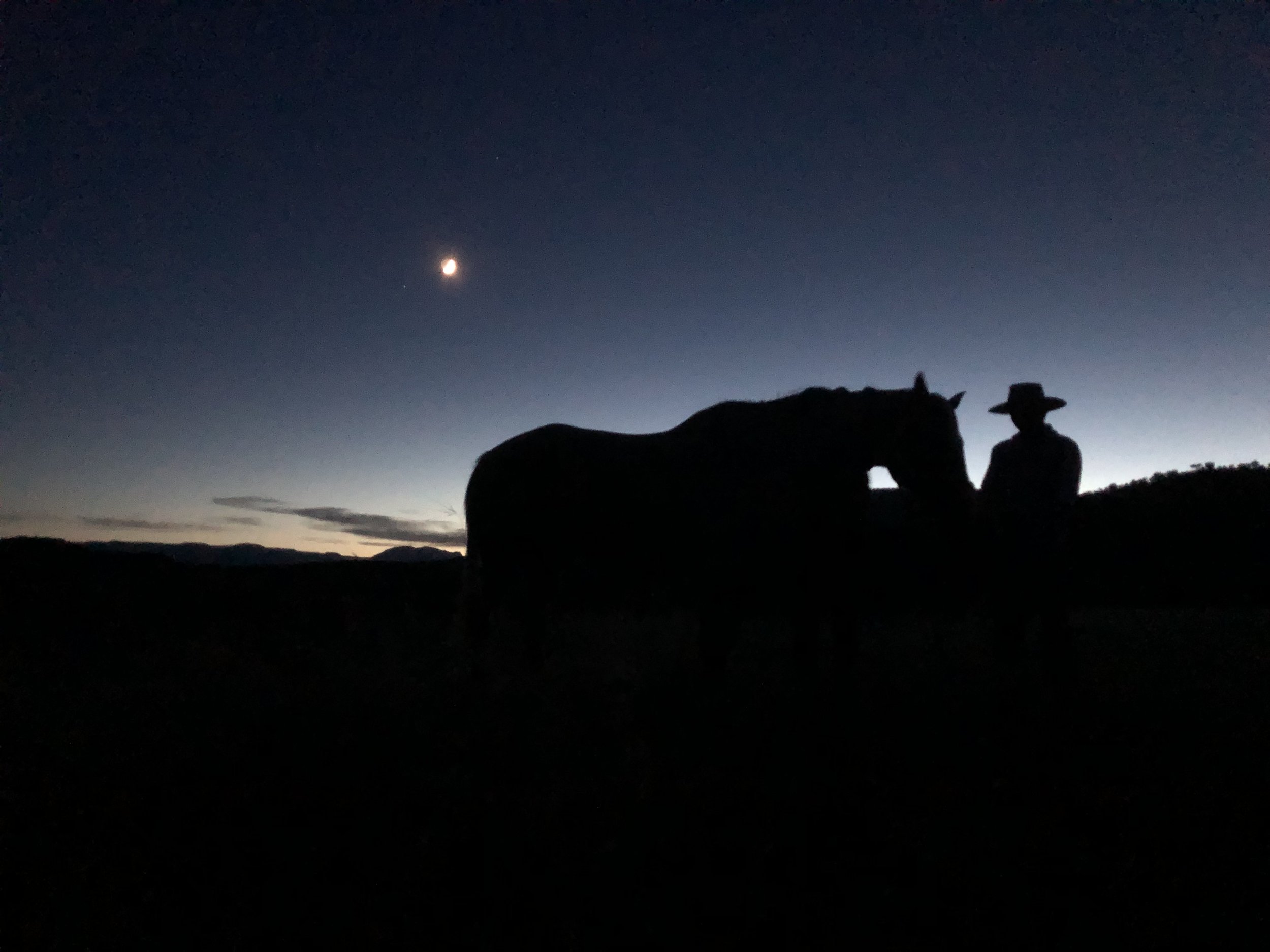 It is with great sadness that MVHR must share the news of the passing of one of our newest intakes.
Just a week after his arrival, the sweet palomino gelding who had yet to be named, presented with colic like symptoms. On further examination with Dr. Silvia Stocker, concerns about his cardiovascular system also arose. Even after a full day of medications and fluids, his comfort continued to deteriorate.
As the moon rose over the mountains, he was gently laid to rest, and joins the herd forever overlooking the river and all of us.
At moments like these we often wonder why some horses come to us, only to pass so soon after. This handsome guy, who we came to call Buddy during his day of medical treatments, came with a handsome friend, with whom he had lived for at least the last two years, just the two of them, abandoned in a pasture. It would almost seem that Buddy had a mission - to get his handsome friend to a place of safety with the possibility of love and other friends. Only then could he succumb to the physical challenges he had likely been harboring for a long time.
We are honored to have known Buddy and his stoic, willing nature, if only for a short week. And we are most deeply humbled and honored that he entrusted the care of his friend to us, and MVHR looks forward to helping him find a new friend, and a forever home.
God speed handsome Buddy!
Gabby was purchased at auction in the fall of 2011, to keep her from kill buyers. She quickly found an adoptive home through MVHR, and lived happily with their family until they had to move into town and could no longer have animals, and she returned to MVHR in 2018.
4/17/2019 - With heavy hearts, MVHR must share news of the passing of our dear mule Gabby, who was euthanized on Wednesday as her ringbone had continued to progress, making her less and less comfortable, even just walking in her corral. Our sweet girl went out to pasture early Wednesday morning, had a good roll in the grass, then laid down for an hour or so next to her pasture mate Latigo, enjoying the sunshine. She got up late morning, was groomed head to tail by one of our wonderful volunteers, then grazed and moseyed her way to a spot in the sun, at a high point in the pasture. She grazed there until Dr. Stocker arrived, seeming for all the world to have chosen her spot. After love and tears, she was gently laid to rest where she stood. She will always be with us from her spot on the gentle rise in the pasture, stoically being companion, comfort, advisor, whatever is needed....just as she was while she was alive. We will miss your long, soft ears...and your not so subtle nudges for more attention....run fast, dear girl!!!!.
Blondie was bought by MVHR in fall of 2011 to keep her from slaughter. A 20+ year old Belgian mare who had been brood mare all her life, she was never been broke to ride, but prefers to be Mama to the herd and the people here at MVHR. Blondie is blessed to be fully sponsored by a local supporter, and so remains at MVHR to keep an eye on all of us. In September of 2016, Blondie fulfilled part of her legacy, being the first MVHR horse to set foot on MVHR's permanent home in McCoy. Here she will continue to oversee all of us, and promote efforts to carry out plans for additional facilities on property to help MVHR help more horses.
6/17/2018 - It is with the heaviest of hearts that MVHR must share sad news on Fathers Day. Our magnificent boss mare Blondie passed away this morning. In her mid twenties, this beautiful Belgian mare had lived a full life - as mother to many before MVHR purchased her at auction to keep her from kill buyers. In her years with MVHR she gently, firmly, and stoically lead us all, both human and horse. Her steadfast wisdom was a constant source of guidance, comfort, and support. Blondie brought MVHR to our forever home, and was the first MVHR horse to set foot on the ranch in McCoy. Thank you, Blondie, for all you have done with and for all of us. Be wild and free beautiful girl. No one deserves wings more than you.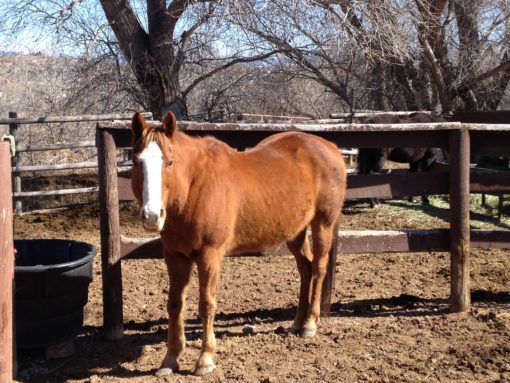 Handsome Monk was euthanized June of 2017. After over a year of treatments, medications, and exquisite care thanks to his generous sponsor, Monk's pain became too much. With his knee continuing to collapse, he was gently laid to rest on the hill overlooking the river. He will never be too far away from his mares, and his knee will never hurt again. Run free, handsome! We love you!
Dear DeBask was euthanized on October 3, 2017. DeBask had been suffering from minor recurring colics, but this one turned major, and his pain could not be managed, even under the outstanding care of Dr. Silvia Stocker. Given his age, breed, and presentation, it is likely he had strangulating lipomas disrupting his digestive system. He was put down as the full moon rose over the mountains, surrounded by the love of staff and volunteers. He was buried on the hill overlooking the river, where he will forever be at peace, pain free, but never too far away. Run free DeBask, we will miss your big spirit!
Sweet Lazarus was in a bad way when he came to us, and was found roaming by ranchers who brought him to our door. Though he only lived 13 days on our ranch, he quickly made his way into our hearts and memories and he will be greatly missed by all who knew him. Rest in peace Lazarus.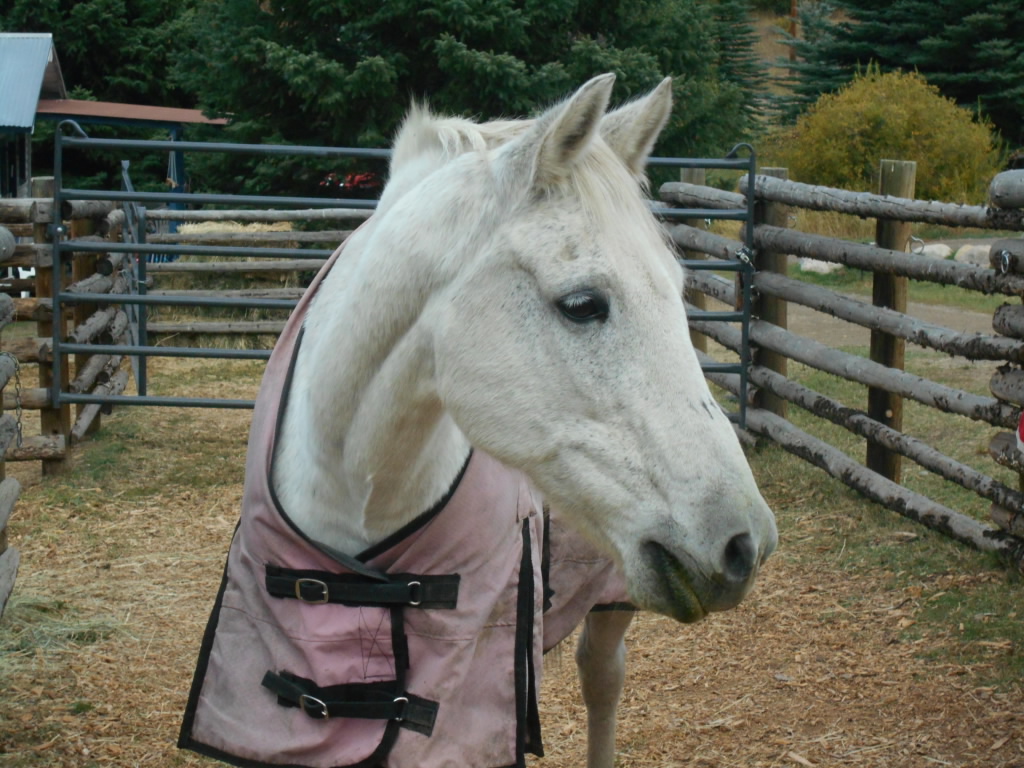 Nacona came to MVHR, with Sinclair, from Barbara Wright at Harmony Horse Works. In her 30's, Nacona brought a lifetime of experience and personality to everyone she met here at MVHR through her participation in our education, outreach, and therapy programs. We sadly said goodbye to Nacona in February of 2018, when she joined her friend DeBask in a final resting place here with us forever, over looking the river, as the eagles soared.